Make friends with the NEW …PLM systems
From the series: "Magda, but after all…"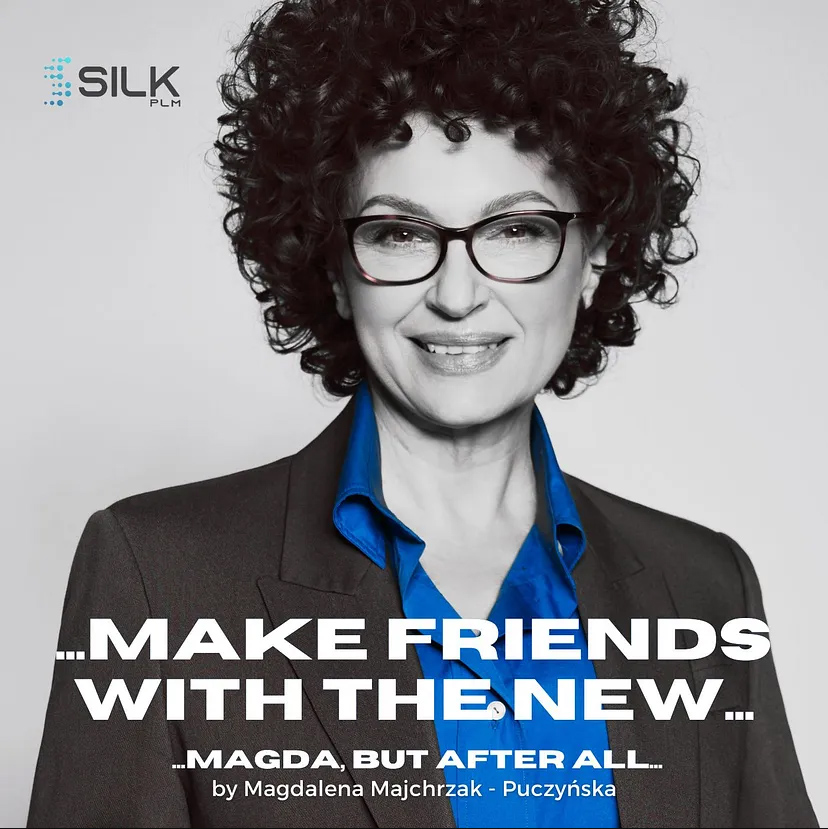 Recently, in the companies I know, I heard so often: "Magda, but after all…" that I have decided to write about it. Since publishing texts is still a new experience for me, I will begin by introducing the idea of being new — the "new" in the company.
And there could be a lot of new things in it.
– a new approach: to customers, products, employees, cooperators
– new methods of: communication, management, organization and standardization
– new systems, technical solutions, processes, and optimizations
Introducing a change in the company
– why don't we like it?
"Magda, but we've been doing so great for over 20 years now…."
Congratulations! And do you want to go on like this for another 20 years? Or perhaps your ambitions are bigger? Do you want to grow, conquer new markets, expand the assortment?
If so, then you need to make friends with the NEW.
"OK, so what to start with?"
Exactly with the best of what the company has been doing for the last 20 years.
"But why?"
Because this is where most schemes, habits, things people are used to, mental and operational shortcuts lie. All of them get old the fastest, especially in a rapidly changing environment. And old habits don't like to change.
Do you think I'll start with marketing?
You're right, but not directly. Therefore, today's topic will not be about customer journey, nor about product design, nor about communication strategy, but about management — product management.
Let's take a big step forward. We already know who our consumers are, what they want, where they want to buy our products, and how much they would like to pay.
Product management — seems simple, until…
We start to design, prototype, produce, deliver and sell.
When there is only one product, the whole process looks simple and transparent. Of course, I do not mean complex technical products, but broadly understood consumer products. However, when we have a range, palette, catalogue or collection of such products, imported at specific times, from different places and in many variants: colours, sizes, quality, well…., things get complicated.
Of course, some wise guys have already invented more than one table in Excel and discussed who does what at many meetings. But still the coordination of the process as a whole, the timeliness of deliveries and the quality are constantly getting out of control.
Other wise guys have found a solution to this, these are PLM (product lifecycle management) systems, also called PDM (product data management) or PIM (product information management).
There are many of them, e.g. silkPLM, and all of them are tools that enable the management of the entire product lifecycle from the concept to production, sale, up to the products' market death.
PLM — what is it and what does it facilitate?
All PLM systems support the design, engineering, manufacturing, marketing and service processes, allowing the company to control the entire process. They are technologically advanced tools that are easy to use at the same time.
However, the simplicity of use is not the most important here, although it is also of great importance, especially for those who use tables in Excel on a daily basis.
Better product lifecycle management is influenced by:
One place gathering all information generated in the entire process. That means a huge amount of data, photos, drawings, recipes, dimensions, ratings, costs, and terms which are created in the whole process and which are now easy to refer to, to compare and update.
The availability of this information to different teams working on different stages of products' development and life cycle. The use of this data is simultaneous and collision-free, which has a huge impact on the speed and precision of communication between teams and their cooperation.
The integration of all sub-processes gives the organization one, consistent, efficient and easily controllable workflow. Everything is possible thanks to a single source of data, combining the effects of various activities and simplifying communication.
Faster and more precise control identifies points in the process that generate excessive financial or time costs, making it easier to eliminate or reduce them. As a result, the total costs and deadlines generated by the process may decrease or shorten, and they will certainly not exceed the assumed limits.
All the previously mentioned benefits of PLM systems improve the efficiency of the product management process. What about the quality? Quality control can take place at every stage, you can catch errors faster and better, determine their nature and provide accurate information about the necessary change. You can finally eliminate the problematic product and replace it with a new one within the deadline.
Planning the product collection and its components, delivery schedules and budgeting, combined with the effects of current activities, suggests in a critical situation what, for how much and when we can implement to replace the prototype "killed" by corrections.
To sum up, no Excel table will give us the flexibility of decisions and consequently of actions, ongoing and easy control of quality, time and costs, efficient and fast communication. The benefits of the PLM system seem obvious, so why the resistance to the introduction of PLM as something NEW to the company?
"Magda, but we are only a small company…"
"Magda, but the Board will not agree to this…"
"Magda, but after all…"
… after all, I always give you the answer, and so I will, in my next article.